Bunkerkings Supreme Gear Backpack – Royal Black
Handelt es sich um einen Rucksack, eine Ausrüstungstasche oder einen Koffer? Eigentlich ist er alles drei. Der Supreme Gear Backpack ist so konzipiert, dass er in die Handgepäckbeschränkungen aller großen Fluggesellschaften passt und wie ein normaler Rucksack leicht mitgeführt werden kann.
Lieferzeit: 2 - 5 Werktage
Produktbeschreibung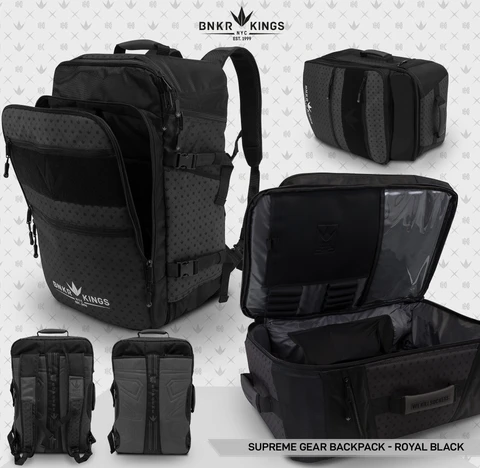 Is it a backpack, gear bag or a suitcase? Actually, it's all 3. The Supreme Gear backpack is designed to fit within the carry on restrictions for all the major airlines, and can easily be carried around like a regular backpack. The Supreme gear bag is great for athletes, gamers, designers, and photographers. But because of the lightweight way the bag is designed you can pack a ton of gear, equipment, or other personal items into it. And if you want to check your bag with regular luggage, you can tuck the straps into the back panel itself to keep them from getting damaged or snagged. This makes for easy transportation in and out of the car as well. Maximize the amount of weight you can carry, as the Supreme Gearbag only weighs 3lbs 11oz.
Key Storage Features
Massive accordion style exterior access padded laptop (or paintball marker) sleeve (13x17in).
Four Large Exterior Access Zipper Pockets.
Elastic Neoprene Side Pocket with Dual Compression Buckles
Large Interior Storage Compartment with 360° Padded Walls (13x20x8in) – zipper-free interior
Elastic Mesh Storage Pocket
Accessory Storage Loops
Padded Neoprene Storage Sleeve – Velcro Closure
Heavy Duty Clear Vinyl Storage Sleeve – Velcro Closure.
Exterior Features
Lightweight Durable Construction
Padded Moisture Wicking Shoulder Straps
Slide-Adjustable Chest Strap
Soft Padded Handles on Top and Side
Stowable Shoulder Straps and Waist Buckle
Padded Moisture Wicking Back Liner
Velcro Patch Strip
Encapsulated BK Crown Logo Rubber Zipper Pulls
Graphic Sublimated Panels Reinforced – Durable Cordura Fabric.
The Supreme Gear Bag comes in 2 different color choices. Supreme Royal Black, featuring our premium Bunkerkings Royal Supreme Pattern, and for those who want to a little spice from Bunkerkings traditional roots as an urban lifestyle paintball brand, we have a limited number of leopard print patterns.
Weight & Dimensions
3.6lbs  | 21″ H x 13″ W x 11″ D
1.6kg | 53cm H x 33cm W x 28cm D
Nur angemeldete Kunden, die dieses Produkt gekauft haben, dürfen eine Bewertung abgeben.